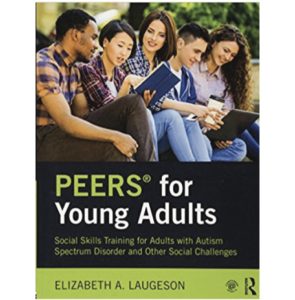 Young people with Autism Spectrum Disorder (ASD) typically want social relationships but have trouble building them. Extensive social skills training research has been conducted with young children with ASD, but research about social skills training for young adults with ASD is scant. Elizabeth A. Laugeson has designed an evidence-based method of group training for young adults with ASD and other social challenges and their parents/caregivers. This training is designed to help the young adults with ASD develop skills and learn social rules to help them build the social and romantic relationships they seek.
Her book, PEERS® for Young Adults: Social Skills Training for Adults with Autism Spectrum Disorder and Other Social Challenges, is the product of years of research and clinical practice with this population. Laugeson is a clinical psychologist and assistant clinical professor at the University of California, Los Angeles Semel Institute for Neuroscience and Human Behavior. She also directs an ASD research alliance and an outpatient program to provide social skills training for people with ASD. She and colleagues have conducted and published rigorous randomized clinical trials of the Program for the Education and Enrichment of Relational Skills (PEERS®). The book, PEERS® for Young Adults,serves as a detailed manual for clinicians and educators about how to lead these coaching sessions so that they can support groups of young people (i.e., ideally 18- 24 years old) with ASD who wish to improve their social relations.
The program is designed around common social errors that people with ASD make. It is meant to be administered in its entirety and in the order described. It is likely to be most effective when the young adult participants want to be part of the program and seek more fulfilling social relations.  Laugeson provides a thorough explanation of what to do in each session. That is, each chapter presents the rationale for the session, explains how to review homework, describes a didactic lesson, and presents a new homework assignment. These assignments include tasks like having a phone conversation and enrolling in activities related to the young adult's interest.  A key feature of the program is that it involves concurrent sessions with social coaching training for the parents/caregivers and active training for the young people with ASD. Parent/caregiver involvement is important so that the parents know how they can help their young adult. Each session concludes with the young adults and caregivers reuniting to debrief and plan for the next session together.
The group training program progresses through teaching how to: start and maintain conversations, find sources of friends, communicate electronically, use humor appropriately, enter and exit group conversations, hanging out with friends, indicate romantic interest, ask someone on a date, go on a date, and handle disagreements and bullies.  There are numerous helpful and ideas in these sessions.  For example, young adult participants should learn friendship is a choice, finding common interests with another person is a good way to start a conversation, trading information is key to social interactions, and remaining flexible to changes that may occur during social gatherings is necessary.
The guide is thorough in including behavioral management techniques, tools to help young adults and their caregivers assess progress and practice skills, role play demonstration descriptions with accompanying videos available online, perspective-taking questions, and a related mobile app called FriendMaker.
Laugeson's research has shown that many young people with ASD have benefited from PEERS®training. This book makes it possible and practical for clinicians and educators to run PEERS®training on their own so that many more young people can learn these critical lessons and begin living happier, more socially-fulfilled lives.
Laugeson, E. A. (2017). PEERS® for young adults: Social skills training for adults with autism spectrum disorder and other social challenges. New York, NY: Routledge.