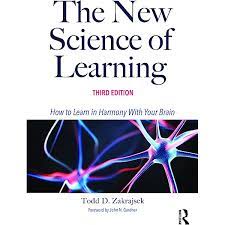 In the ever-evolving realm of educational literature this is quickly becoming a classic. The New Science of Learning, first published in 2013, continues to emerge with each new edition as an invaluable compass for both students transitioning from high school to the world of academia as well as for educators seeking a refreshed pedagogical perspective and insights into the psychological experience of the learner. Todd D. Zakrajsek's personal journey to becoming a better student and mentor has resulted in a treasure trove of continuously revised and reexamined learning insights you don't want to miss.
The topics in this book are carefully selected, and while the author suggests that you should feel free to jump around these independently excellent chapters, following the given order adds a special touch to the journey. It kicks off with a deep dive into the art of perspective-taking – a fresh twist you might not expect in a book about improving your approaches to effective learning! It then dives into getting to know yourself better giving fresh perspective and clarification. Self-awareness and -regulation are key to effective learning and closely tied to our belief in our own abilities, known as self-efficacy. Students (and instructors) will be able to better frame their experience helping us become aware that feelings of doubt, like imposter syndrome, are more about societal pressures than personal flaws. The society and the individual mind are unavoidably linked. In line with current literature, the author reviews approaches that emphasize that focusing on our rough edges is not always the best strategy; a positive outlook can really shape our success! But the book is not only filled with strategies for reframing ourselves and our social situation, it is also chock-full of concrete strategies ranging from memory to lifestyle changes like sleep and exercise. But this is no simple review of what you have heard; it is well-researched, updated, and cited. As is clear from the author's mission, it's the start of a journey, not a conclusion.
Leading with personal investment, the author explains he faced challenges transitioning from high school to college, initially under-performing and wondering if he was the college type. But instead of giving up, he dove deep into understanding the mind, applying those insights to his own college journey. This passion not only led him to earn a PhD but also to craft three editions of this fantastic book! You will remain captivated by his deep insights and enduring commitment to understanding the student learning process. It's a privilege to join him on this enlightening quest to master the art and science of learning.
Each chapter is well crafted, featuring an outstanding set of discussion questions accompanied by a summary and an extensive list of author-vetted resources. This structure not only enhances comprehension but also serves as a catalyst for deeper academic exploration. It sets itself up as a perfect complement to an academic program. In fact, just this morning, before finishing this review, I received feedback from one of my students who had further questions from articles in this book's citations. Yes, this term, I incorporated a chapter into my curriculum, and the response was overwhelmingly positive. Many students expressed a keen interest in acquiring the complete book, viewing it as a promising tool for their academic progression, voicing that they wish they had seen it years ago. It's a versatile resource suitable for various fields and contexts. For instance, if I were to spearhead a college adjustment program or oversee a learning assistance center, this book would be my go-to reference.
While I've appreciated previous editions of this work, the fresh content and perspectives in this edition make it an essential "New" addition to any personal library. Whether you're a student, an educator, or simply someone with an interest in the intricacies of learning, The New Science of Learning is a must-read. Take the chance to get to know your own mind a little better.