This webinar will use Zoom.
This webinar will run from 12:00 pm - 3:15 pm ET / 9:00 am - 12:15 pm PT on Saturday, February 6, 2021 for a total of 3 credit hours.
For those who cannot attend the live webinar on Feb. 6, a recording of the webinar will be available for a week following the live webinar. CE credit is only available for live attendance.

This virtual workshop will explore clinically proven neurological approaches to addressing self-regulation in children and adolescents diagnosed with Autism, Sensory Processing Disorder, Trauma, and ADHD. Knowing the underlying brain connections will help you better select and develop appropriate interventions for challenging behaviors, such as hyper-activity, hypo-activity, aggressiveness, self-stimulatory, and inattentiveness. You will walk away with neurologically tailored sensory strategies, cutting-edge treatment techniques, and sensory equipment strategies, including, mindfulness, social skill programs, music and movement, and intervention techniques. Attendees will leave with a general understanding of the neurological connections and strategies to improve executive functioning and social interaction.

LEARNING OBJECTIVES
Gain knowledge of the basic components of the Action Approach to interventions
Review the neuroscience behind self-regulation in school age children with Autism, Sensory Processing Disorders, Trauma, and/or ADHD
Through video case examples, analyze the cause and effect of intervention techniques as they relate to neurological components
Review strategies that work for addressing 'Behavior', enhancing classroom function, and when to make appropriate referrals
Synthesize knowledge gained to apply to case examples
Apply tools from the Action from Trauma Approach to case examples

WHO SHOULD ATTEND
This seminar is applicable for PreK-12 educators, school psychologists, occupational therapists, counselors, and speech-language pathologists.

WORKSHOP LEADER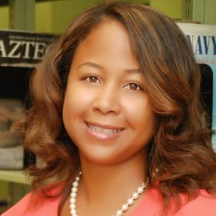 About Dr. Varleisha Gibbs
Varleisha D. Gibbs, PhD, OTD, OTR/L is an author, speaker, and occupational therapist by trade. Her work led her to study the brain and the hidden power within our nervous system. Her focus has been on those with neurological and developmental conditions (Autism, ADHD, Sensory Processing Disorders, Stroke, and Dementia). She is currently the Vice President of Practice Engagement and Capacity Building at The American Occupational Therapy Association and formerly Associate Professor and Director of Inaugural Masters of Occupational Therapy Program at Wesley College. Dr. Gibbs is the author and co-author of multiple books including Raising Kids With Sensory Processing Disorders: A Week-by-Week Guide to Helping Your Out-of-Sync Child With Sensory and Self-Regulation Issues (2020), Self-Regulation and Mindfulness: Over 82 Exercises & Worksheets for Sensory Processing Disorder, ADHD, & Autism Spectrum Disorder (2017), and Raising Kids with Sensory Processing Disorders (2013)